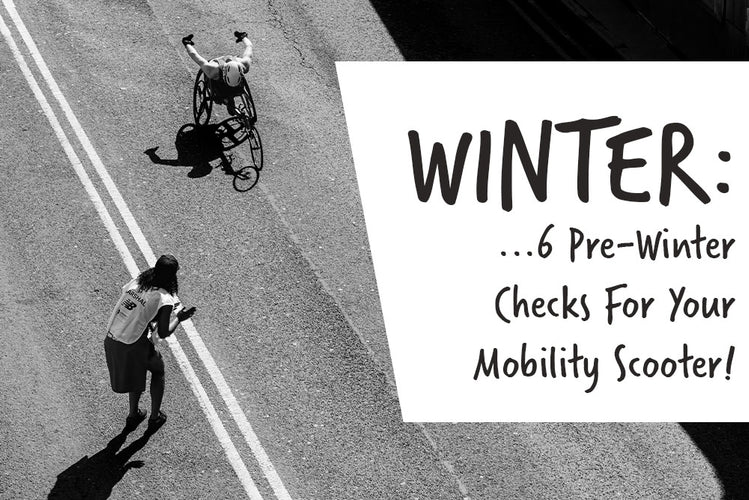 It's getting to that time of year again. Nights are drawing in faster, mornings are darker, the cold and rain is starting to become more frequent. Yep, winter is coming as they say. So there is no better time to run over a quick check list of things you need to do with your mobility scooter before winter gets change to take its toll. 
Not only can the elements like road salt and water have an unsuspecting impact on your mobility scooter, but it's also worth looking at the bigger picture of your use of your mobility scooter through winter and the steps you can take to reduce any potential problems down the line.
Here is out quick list of things to look out for: 
6 pre-winter checks for your mobility scooter
1. Check your tyres
It might sound overly simply but a good visual check of your tyres is something thats always worth considering. Safety is paramount at the best of times, but in this case checking the condition of your tyres is key to avoiding being caught in a less than ideal circumstance especially with the cold and dark rolling in. 
2. Check your battery level
Having your batteries in peak condition is a must even if you're not planning on using your mobility scooter. Having them charged correctly will save you one heck of a bad day. In the summer, if things go wrong it may not be as bad, but in the winter, the last thing you want to do is run low on juice. Even if you know how much battery you need to go here, there and everywhere, it's always worth being prepared for every eventuality. So get into the habit of keeping your battery levels topped up as per the manufacturer's instructions. 
3. Be safe, be seen
With the seasons changing so too does the light. As the days and weeks progress, days will get sorter and the darkness will prevail more and more. It's a good idea to think about this long before it gets to the point where you think 'uh-oh' and it's really dark outside. Having great visibility sorted well in advance means it's one less thing to worry about. Again, even if you're not planning to use your mobility scooter much during winter, it's well worth having everything prepared in advance just incase. Lights, hi-vis and reflective materials are just some things to use to help pedestrians and road users alike see you clearly. 
4. Keep it clean
With the cold, comes the rain. Then the muck, ice, snow and everything else! The elements really can take their toll on your mobility scooter degrading its service life and your investment. But you can do a lot to help mitigate this by simply looking after it. It may time time to clean and dry your mobility scooter after use, but getting the dirt and debris removed helps prevent a whole range of problems. 
5. Proper storage
Again, it's all about prevention rather than cure when it comes to preparing your mobility scooter for winter. Even with all the preparation in place, you still need to store it correctly to prevent the elements doing their worst over time. Keeping it dry is paramount to extending its life in more ways than one. So keeping it indoors is key, better still somewhere that has some ambient warmth to it is even better. Having it somewhere warm, can really help keep it dry and therefore prevent further damage over time.
6. Pre-winter service
Perhaps the best tip on being prepared for winter with your mobility scooter is to go and talk to your local service centre. They'll be able to give you a full run down of all the help you'll need to be properly prepared for the colder, wetter and darker conditions. Plus, a pre-winter service will help have the professionals check, check and double check everything is exactly as it should be for you before you're out in the cold and wet! 
Conclusion
It's definitely worth being mindful of winter long before it arrives when it comes to safety with your mobility scooter. Our list outlines a few key points to note especially if you've an issue that might go on to cause a challenge for you with your mobility scooter in winter. Best advice we can give is before winter arrives go visit your local mobility store or service centre and talk to them about everything you need to be ready for winter.