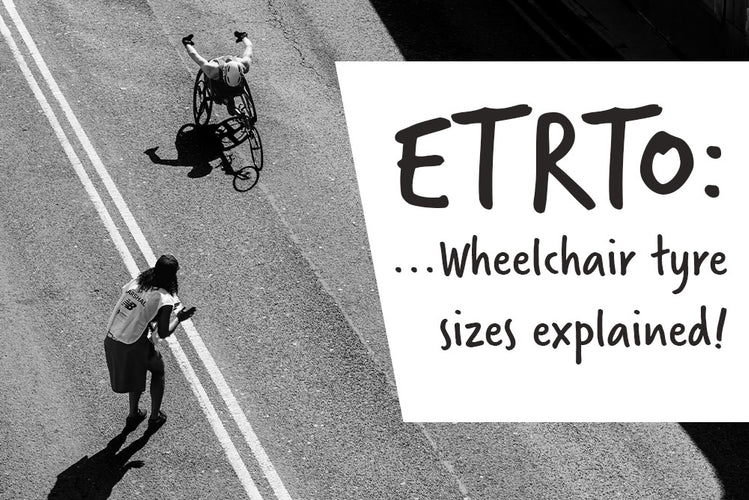 Wanting to know how to always get the correct tyres and tubes you need for your wheelchair? Well, the surest method is to use the ETRTO measurement system. ETRTO stands for the European Tyre and Rim Technical Organisation, and in essence it's their job to help with standardising all things tyre. tube and rim related being a part of of ISO (International Standards Organisation).
ETRTO / Imperial sizes
It might sound a bit obvious, but tyre manufacturers the world over need a standard system when it comes to manufacturing tyres, tubes and rims. Without it, a tyre made in one country might not be the same as another country. The cycle tyre industry has a history of sizing issues especially back when only imperial sizing was used. But over the last 50 years ETRTO has stepped in and got things singing to the same hymn sheet with decimalisation!
The system essentially standardises everything so you can rest assured things will fit as they should no matter what size you need, removing the nuances of the imperial and french size systems of old.
Below is a quick guide to some of the most common wheelchair tyre sizes with the ETRTO size in brackets after them. If you look on your tyres, you'll hopefully see both the imperial and ETRTO sizes on the tyre sidewall. However, this quick guide is handy when it comes to buying replacement tubes, simply click on a size and you'll be taken to the matching inner tube by legendary tyre and tube manufacturer Schwalbe!
Common wheelchair tyre/tube sizes: 
20 x 2.00 (50-406)
20 x 2.125 (54-406)
(Remember to select the correct valve type when selecting your tubes!)
If for any reason you can't find what you're looking for, please do contact us, we're here to help!