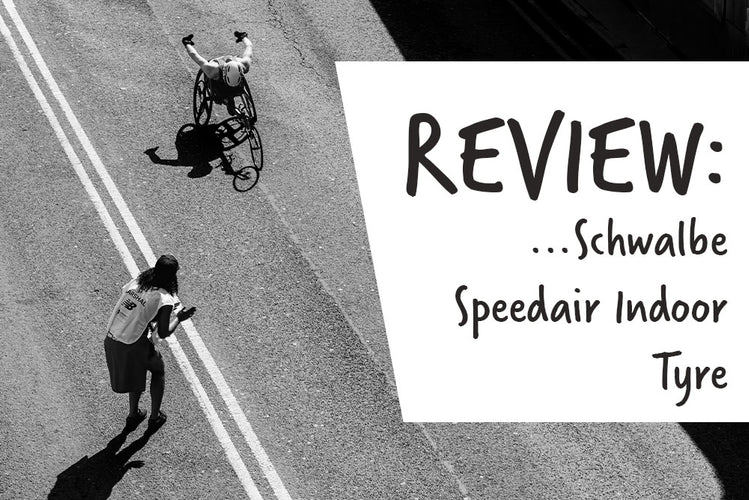 Wanting an indoor performance sports tyre at a good price? Well the Schwalbe Speedair could be worth a look. Designed to be fast and nimble, this indoor tyre hits the sweet spot between price and performance for indoor wheelchair sports. As the name suggests this is a sports chair tyre built for speed; yet it's certainly not a one trick pony with all the other features it has to offer!
Speedair Key Features
Specially Designed - Negative camber by design for indoor sports
Exceptional Agility - Fast, grippy, turn and roll effortlessly
2Grip Sidewalls

 

- Great grip at the limits
Fast rolling

 

- Low resistance for speed and agility
Non-Marking - Perfect on a wide range of surfaces
V-Guard - Fabric insert inside made of extremely light and cut resistant fibres
Pros
Performance
Handling
Low Price
Cons
As as durable as some
Only comes in white
Size & Weight:
24 x 3/4 (20-540) 220g

26 x 3/4 (20-559) 230g
26 x 3/4 (20-590) 245g
700 x 23 (23-622) 305g
Tubes that fit:
Schwalbe AV9A / SV9A 24 x 3/4 (20-540)
Schwalbe AV11A / SV11A 26 x 3/4 (20-559)
Schwalbe AV12B / SV12B 26 x 3/4 (20-590)
Schwalbe AV15 / SV15 700 x 23 (23-622)
ETRTO: 20-559
Design: Clincher tyre
Pressure psi: 85-145
Profile: HS343
Performance: Performance, Lite Skin, V-Guard
Rubber Compound: Silica
Tread Count: 67 TPI
Max. capacity: 55 kg
Summary 
With plenty of performance that won't break the bank, whats not to love about the Schwalbe Speedair wheelchair tyre. It's super thin profile and high pressure rating its got it all as the indoor specialist tyre. A popular sports chair tyre choice with plenty of grip, agility, and reliability all at an unbeatable price. 
Our Rating:
 8.5

/10

 

Check out our unbeatable prices on the Schwalbe Speedair here! Get yours today!